Caucasian Ovtcharka Resource Center
---
(Last changed 10/22/00)

Welcome to the home and resource center for the Caucasian Ovtcharka. This Livestock Guardian Dog, native to the former Soviet Union, is one of a collection of Old World breeds used to guard sheep and other livestock from predation. The breed is known by a variety of names and spellings reflecting the wide range of the dog and the individualized spellings of the various regions, including; Caucasian Sheepdog, Kawkasky Owtscharka, Kaukasische Schaferhund, however the misnomer Caucasian Mountain Dog is a fabrication of one fancier here in the United States and is incorrect.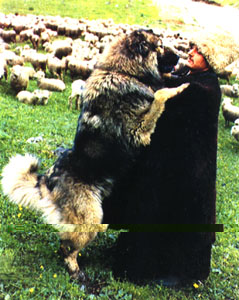 The breed is highly-prized in its native areas for its extraordinary working abilities, discretion in determining real threats from false, and, as with all the LGD breeds, its judicious use of the minimum response necessary. There is no way you could tell this shepherd that there could be a better working companion!
Text and Information:
Cool Pictures:
---
Benjamin G. Levy, ben-levy@westworld.com
All material on this site is ©Copyright Benjamin G. Levy, 1999, unless otherwise specified. Use of any material available here requires explicit written permission. Web Counter by www.digits.com.